The articles I write here, at Grading For Growth, Intentional Academia and elsewhere, are brief explorations of ideas that I find interesting or important. But sometimes I want to go deeper, and that's where my books come from.
---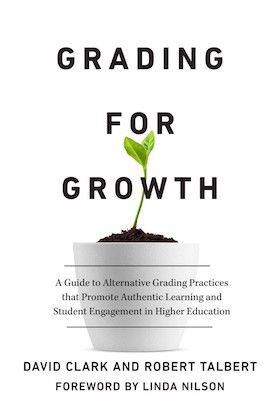 Grading For Growth: A Guide to Alternative Grading Practices that Promote Authentic Learning and Student Engagement in Higher Education (Stylus Publications, 2023) is my newest book, co-authored with David Clark. It is both a critique of traditional grading systems, based on point accumulations and one-and-done assessments, and a deep dive into the world of alternative systems like specifications grading and ungrading. It features numerous case studies from real-life classroom instructors and a self-paced workbook for designing your own alternative grading system. You can order it now from Routledge or on Amazon.
Flipped Learning: A Guide for Higher Education Faculty (Stylus Publications, 2017) is the first all-inclusive guide to using flipped learning in higher education instruction. It distills a decade's worth of my own research and classroom experience with this idea, and provides faculty with frameworks and blueprints for getting started in their own classes. Order it at Stylus or click on the image above to buy from Amazon.
It's also available in Portuguese!